Sex sells. But happiness might sell even better.
Marketers know that very well. They claim that purchasing their products – as opposed to their competitor's – make a consumer happy. I already commented a bit on this a couple of months ago, in two posts about the psychological effects of food, and about marketing food with happiness claims.
Since, I came across this sign: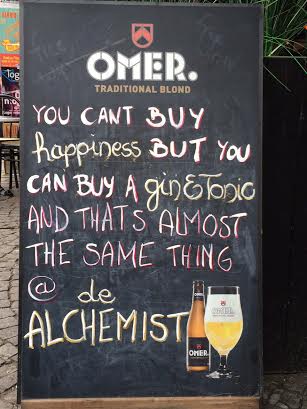 Beyond this a funny and simple sign in front of a bar with a cheeky claim about happiness, I also saw a perfected version of the message "Buy us = happiness" from Coca-Cola.
The giant sugared drinks producer is becoming the strongest commercial happiness provider. After taking happiness as a theme via 'Share Happiness' and 'Open Happiness' campaigns, it now has launched regional campaigns under the name 'Choose Happiness'. In Belgium, one of the posters alludes to Brussels' symbol Manneken Pis. It looks like this: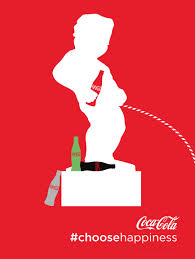 The science of food and happiness states that marketers very occasionally do have a point when they claim that their products can increase people's happiness or positive emotions. 'Comfort foods" fatty acids affect neural signals in the brain, and can result in a weaker response to sad images. And the production of serotonin, the neurotransmitter most linked to positive emotions and happiness, can be aided by products like spinach, turkey and bananas. Before you stock up on spinach, consider that this implies a limited positive link, and by no means a direct and automatic effect. Spinach is not the key to happiness.
And, sorry to disappoint you, neither are gin-tonic and Coca-Cola. The sugar rush of a Coke can give a momentary positive stimulus to your mood. But the same is true for a Pepsi, and neither equals happiness. Slogans like 'Choose Happiness' misleadingly suggest an automatic effect. Of course we rationally know that all the expression of fun, social status, and the good life are artificial tricks to seduce us.
But by claiming happiness, marketers enter a very personal life domain. If, as Coca Cola seems to argue, people have full control of their own happiness ('success is a choice'),it implies that the easiest way to be successful is by consuming their product. It also transmits the message that failure is a choice, and that is our own fault if we are unhappy. That's not something that I as a consumer want to hear from a company.
In a way, I prefer the cheeky slogan of a bar, saying that a gin tonic brings us closer to happiness. It's a lot more playful way of attracting attention.
If I wanted a drink of happiness, I'd go for a gin-tonic.