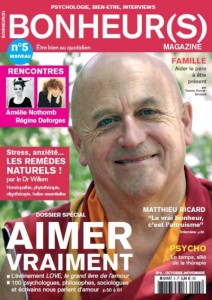 On my way to the shopping street for my Saturday groceries, I stop by in the press corner with the aim to buy stamps. I scan the shelf of magazines and see the familiar face of Matthieu Ricard stare at me from the cover of Bonheur(s) magazine.
Normally, I am wary of these kind of pseudo-psychological magazines produced for the happiness market. Every vague word that is not evidence-based triggers a critical counter-reaction. But, admittedly, this blog operates in the same market, so I figured I can always buy it for research purposes. In any case, it's worthwhile to hear more of Ricard's wisdom.
Matthieu Ricard is a former biochemist who become a Buddhist monk. He has been labelled the happiest man alive, and has a website featuring a 'smile of the week'. In 2003, he wrote Happiness: A guide to developing life's most important skill, which he presented at TED in 2004. To summarise his talk, Ricard argues that 'mind training' and meditation can help us transform our brains. He questions why human beings spend 15 years in education, and lots of hours to keep fit and beautiful, but don't seem willing to invest time in their well-being. Through this training, we can rewire our brain and nurture our receptiveness for happiness (or better, well-being).
A plea for Altruism
His interviewed in Bonheur(s) magazine is dedicated to the hefty 928-page volume on altruism he just published. His new book Advocacy for altruism spots the traces of altruism in neuroscientific research and the spiritual traditions of Buddhism.
Ricard argues that we all have an interest to be altruistic with our neighbours and future generations: "Altruism will help passing from a merchant's world based on the principle of efficiency to a world of mutual help, from competition to cooperation". To achieve that world, says Ricard, human beings must transform themselves to become truly altruistic. Like well-being, this is something we can train ourselves for. To do so, we need  the support of good masters like the Dalai Lama for whom altruism is a first nature. Ricard himself has been guided by Buddhist spiritual masters since the 1970s.
He ends the interview with a plea for altruism as a radical change in attitude that can contribute to solve the problems of our times – materialism, consumerism, narcissism, and even climate change. Ricard here refers to a study by the American psychologist Tim Kasser, whose longitudinal research demonstrated that people with strong materialistic tendencies and higher levels of wealth developed weaker social ties, a worse health record and lower levels of happiness.
What is altruism anyway?
Does this make Ricard's plea for altruism convincing? Though the general principle and a concept sound appealing, there is one problem: what is altruism? If I decide to be altruistic from tomorrow onwards, what do I do? Could I function as an altruist in a generally consumerist and egoistic society? Can I really fight consumerism and climate change by thinking about my neighbours?
This notwithstanding, I believe Ricard has a bunch of valid points. Le bonheur, c'est les autres (happiness is other people). Many studies have shown how other people matter. But that will be the topic for a later post. To give a little pointer: ask the internet about Michael Norton's work on money, giving and happiness.