The poster below is for a conference I'll be speaking at in Istanbul on Friday 9 March (join if you're around!) Whether you can join or not, I thought the design is so nice it is worth sharing.
The conference, hosted by the Social, Economic and Political Research Foundation of Turkey (TÜSES) and Kadıköy municipality, aims to 'determine the happiness map'. Speakers from Turkey, Norway and Germany, as well as your truly at For A State of Happiness, will share their knowledge. But before the conference day even starts, the organisers' poster already make quite a trip around the world.
The poster displays the words of happiness in a few languages. But which languages are these, and what is the original meaning of those words? Admittedly I didn't get all of them right straight away, but with the help of Google and wiktionary I quite far.
Scroll lower for a crash course in the etymology of happiness.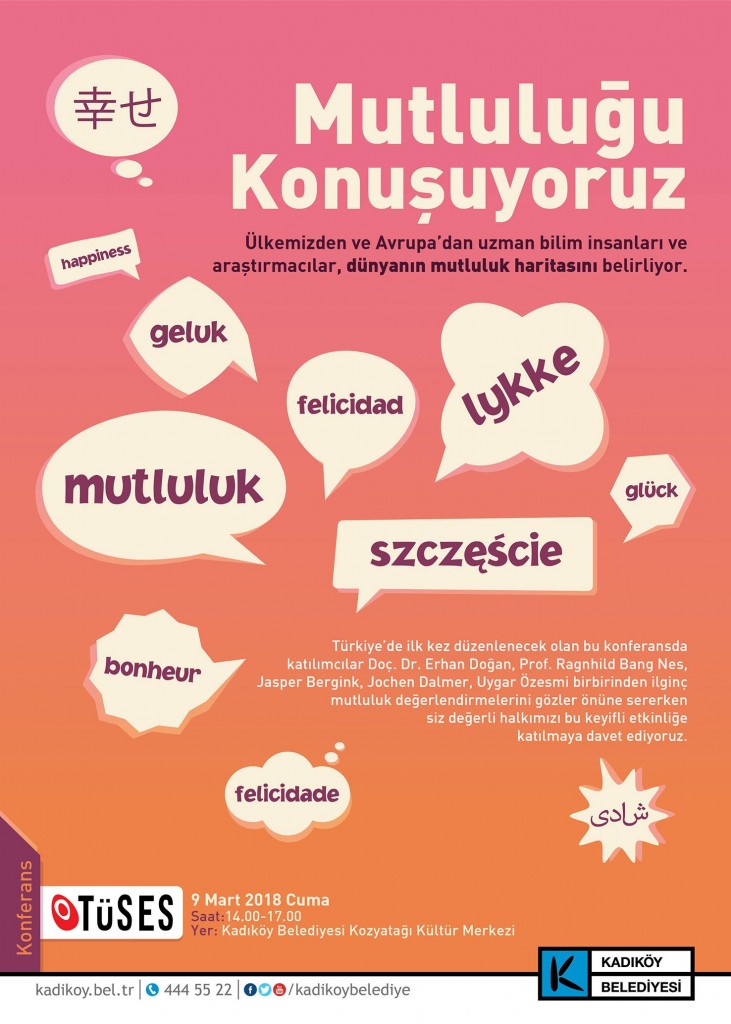 Happiness (English)
Bonheur (French)
Glück (German), geluk (Dutch), lykke (Norwegian)
All different and all the same! Interestingly, all the words for happiness in these Germanic languages share a common etymological origin. As Darrin McMahon writes in his history of the philosophy of happiness, Happiness: A History, it doesn't even stop there:
"It is a striking fact that in every Indo-European language, without exception, going all the way back to ancient Greek, the word for happiness is a cognate with the word for luck. Hap is the Old Norse and Old English root of happiness, and it just means luck or chance, as did the Old French heur, giving us bonheur, good fortune or happiness. German gives us the word Gluck, which to this day means both happiness and chance."
Felicidad (Spanish), felicidade (Portuguese)
Both in Spanish and Portuguese (as well as in the Italian felicità), the words for happiness have a root in the Latin word 'felix'. 'Felix' could also mean 'fertile'. The Romans venerated a goddess called 'Felicitas', which among others represented fertility (although in modern times, people with children tend to see slightly lower happiness rates).
But felicitas meant more than fertility: sharing the meaning of the Germanic terms above, felicitas also means happiness in the sense of 'good luck'.
Mutluluk (Turkish)
A quick search suggest that the Turkish word 'mutluluk' combine 'mutlu', happy with 'luk', a suffix to add -ness. 'Mutlu' itself is also a given name. Very economically, it's antonym 'mutusz' means sad.
شادی (Shadi; Farsi)
In Farsi, finally, happiness is 'shadi'. I can't find too much about it, apart from that is also a name!
Szczęście (Polish)
If this description and Google Translate don't deceive me, the  Polish word for happiness dates back to the 14th century and originates in a Slavic dialect. It seems to combine the prefix sъ- ('good') with čęstь ('part'), to render something like 'good part' or 'successful endeavour'. Good luck pronouncing the 'szcz' bit though!
幸せ shiawase (Japanese)
In Japanese, the word for happiness is a combination of two characters.
幸, says Wiktionary is an old Japanese verb 'su', meaning to "to do, to make something be a certain way". It is complemented by  合わす (awasu, "to join together, to fit together", though the last part is often simply written as せ.
Combined, that makes "to put together well; to work together well". That results in meanings like 'happiness', 'good fortune' or 'good luck', circumstances or the flow of events.
But the most eloquent rendition is "a moment when circumstances come together; fate, opportunity". Isn't that a beautiful definition of happiness?