I've spent most of last weekend moving houses: carrying boxes with all my material needs up to the second floor, assembling my new friendly Swedish couch/bed/chaise longue combination, and wondering what to pick amongst the antique gems of Les Petits Riens.
When most of the work was done and my helper had left, I had an important decision to make. With so many boxes and bags spread over my apartment, and so many things to sort out, where would I start? I chose that my first priority would be to organise about a dozen of boxes with books.
Books can be organised in many ways. I started separating fiction from non-fiction, and after that by language and by author. For the novels, this was fine, but how do you this for non-fiction? Can a language course or travel guide be next to my scientific books from university? Can I mix the category history with popular scientific books?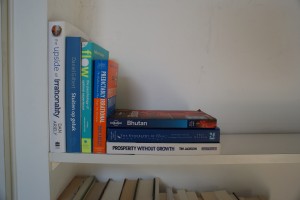 Anyway, at some point during the categorising process, a great idea sprung into my mind. Why wouldn't I dedicate one shelf to books that are in one way or another related to happiness? So far there are seven (from Dan Gilbert's Stumbling on Happiness to Mihaly Csikszentmihaly's Flow, and from the Lonely Planet for Bhutan to Dan Ariely's books on irrationality; also see our page For a read of happiness, grouping all reading material). Despite a general surplus of books, this is the one part in my collection I should be allowed to expand. Richard Layard's Happiness: Lessons from a new science and the biography of Robert F. Kennedy  are next on my list.
This is just a story of how I spent my Saturday evening, but there is also a broader meaning. The way you structure your life, affects the way you looks around and behave in the world. We shape our own lives through the shape we give through our environment. Ever since I started working on finance, I start seeing banks everywhere (occasionally, I wonder about their balance sheets, too).
In the same way, my hope is that having this happiness bookshelf helps to make my apartment a happy place.